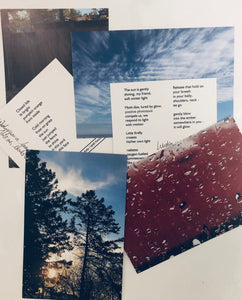 Uplift Postcards
In late 2020 I started creating little "uplifts" to mail to friends, family, and special colleagues all over the world, just to add a little more calm, light, and sweetness into peoples lives. Please click above or email me a message to hk@aitchkaybooks.com with your name and complete mailing address, if you would like to receive uplift poem postcards once in a while. There is no charge - the purpose is simply to brighten your day.
"I cannot tell you how much it means to me when I receive one of these miracles through the mail slot. Makes a sour day sweet. And brings light to this time of the year."

"These have been a beautiful gift this winter! Beautiful photos and words.... thanks so much!"
"Such a bright light in these dark days .... "